Posts Tagged 'Gathering'
December 21st, 2009
by Connor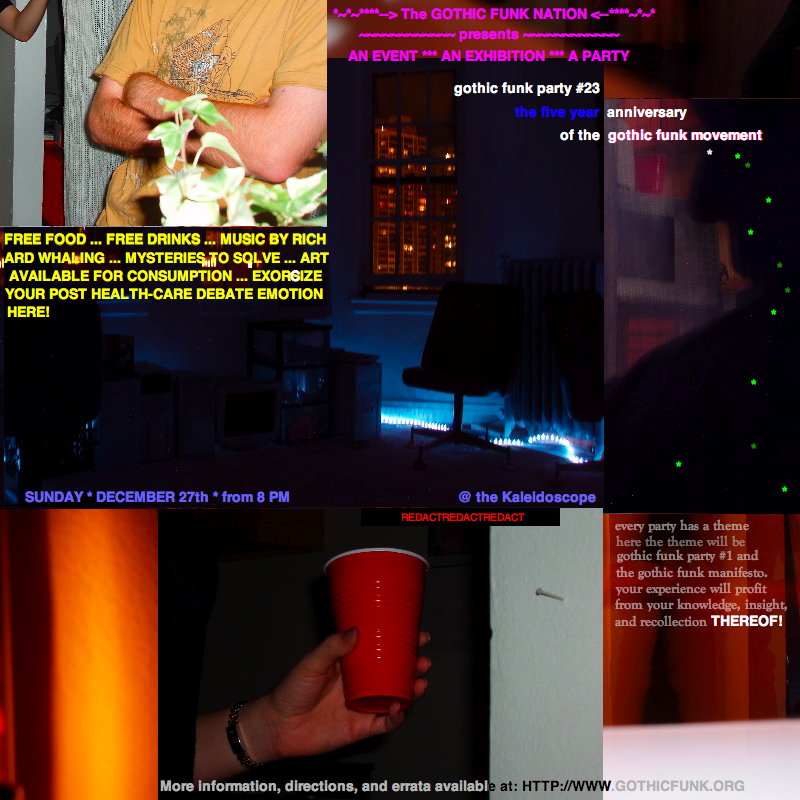 December 15th, 2009
by Sam
National Address Tomorrow, 19/11/2009
I hope everyone is ready for a great N/A tomorrow!  Our new location, Barista Coffee House is an ideal setting for our circle to gather, listen, & chat.  This is your opportunity to bring a piece you would like to share, or simply to find out what others are doing.  We hope you will help us match October's success with your attendance in November!
National Address
Thursday, November 19, 7-9pm
Barista Coffee House, 852 N Damen Ave.
FOR IMMEDIATE RELEASE:
Contact: Connor Coyne, Editor-In-Chief

The Gothic Funk Nation

connor@gothicfunk.org

http://gothicfunk.org
JOURNAL OF THE ARTS CALLS FOR SUBMISSIONS
CHICAGO, ILLINOIS. 4 November, 2009.
The Gothic Funk Nation is accepting submissions for the third issue of its arts journal, The Paramanu Pentaquark. Published biannually online and by CD-ROM, the journal is an eclectic collection of music, painting, photography, poetry, and prose that runs a line from the evocative to the visceral. Selected work exhibits an experimental execution, emotional intensity, and the urgency of communication; this is not a project given to passive pessimism or reluctant daydreams. Issue #2 may be viewed online for free at www.gothicfunk.org.
The new issue will be published this upcoming February, and art in any medium may be submitted online at http://www.gothicfunk.org/parapenta/submissions/. Submissions will be considered as Images, Sounds, or Words, and artists will be notified of our decision within two months. In addition to publication, accepted artists will receive a free copy of a limited print CD-ROM of the third issue, and an invitation to present their work at an official launch event hosted in Chicago.
The Gothic Funk movement was conceived in November 2004 as a series of parties that framed social intimacy as a point of origin for the creative impulse. Subsequent efforts have included public epistles, artistic projects, two monthly reading series, and more parties.
To submit your work, please visit www.gothicfunk.org/parapenta/submissions/.
To peruse the second issue of the Paramanu Pentaquark, please visit www.gothicfunk.org/parapenta/02/.
For more information on the Gothic Funk Nation, please visit www.gothicfunk.org.