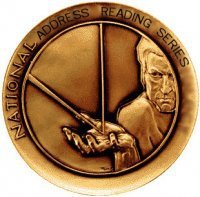 July National Address is upon us! The literary mash-up is really starting to take form, & we hope to tighten it up further. Passages will shorten & play will accelerate, like a game of verbal hot potato! Please bring a book with you, of any genre, length, origin, & content. Everyone will be involved, & at the end, anyone interested can swap books until the next meeting.
We really appreciate April keeping Barista Coffee House open for us, & do not wish to keep her there any later than necessary, so please plan to begin at 7pm. Don't forget the after-reading bar stroll! We will once again retire to High Dive, around the corner at 1938 W Chicago Ave, for food & drink specials sometime after 8:30.
Also, start thinking about your back-to-school essay for August National Address (Thursday, August 19): How I may or may not have spent my summer vacation. Don't worry about cohesion or chronology; think cinematic climax & priceless one-liners. It is to be our most exciting mash-up yet!
National Address is the Gothic Funk Nation's official reading circle, a safe and friendly place to informally workshop works-in-progress. Consisting of readings and round table discussions, the National Address aims to provide a forum for writers of all Gothicly Funky stripes and a voice for the Gothic Funk Nation. Attendance is open and participants are welcome to bring unsolicited material.
National Address
Thursday, July 22, 7-9pm
Barista Coffee House, 852 N Damen Ave.