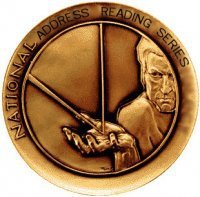 June National Address will be literary mash-up 3! Please bring a book with you, of any genre, length, origin, & content. Everyone will be involved, & at the end, anyone interested can swap books until the next meeting.
Last month we saw the return of the evening bar stroll. Cleos was a little crowded, so we hopped across the street to High Dive, where we found spacious booths & both food & drink specials. Whenever we have had enough fun at Barista, perhaps around 8:30 or 9:00, we will make our way to High Dive again!
National Address is the Gothic Funk Nation's official reading circle, a safe and friendly place to informally workshop works-in-progress. Consisting of readings and round table discussions, the National Address aims to provide a forum for writers of all Gothicly Funky stripes and a voice for the Gothic Funk Nation. Attendance is open and participants are welcome to bring unsolicited material.
National Address
Thursday, June 24, 7-9pm
Barista Coffee House, 852 N Damen Ave.