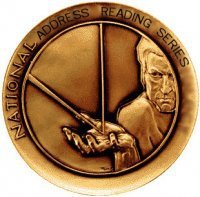 May National Address continues on the success we had with the literary mash-up in April! Please bring a book with you, of any genre, length, origin, & content. Among other titles, last month we were treated to lumberjack poetry, modern drunkard tales, sound relationship advice, tapas recipes, & stuff white people like. Everyone will be involved.
This month we will also bring back the evening bar stroll. Sometime betweween 8 & 9 we will pick up from Barista, & head down to Cleos patio at 1935 W Chicago. Cleos is restricted to those 21 & up only.
National Address is the Gothic Funk Nation's official reading circle, a safe and friendly place to informally workshop works-in-progress. Consisting of readings and round table discussions, the National Address aims to provide a forum for writers of all Gothicly Funky stripes and a voice for the Gothic Funk Nation. Attendance is open and participants are welcome to bring unsolicited material.
National Address
Thursday, May 20, 7-9pm
Barista Coffee House, 852 N Damen Ave.