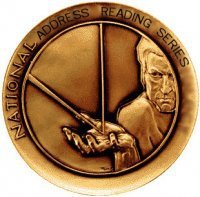 This month, National Address falls during an important event, very relevant to our own cause: Moustache-A-Thon 2010.  This fundraiser, now in its 4th year, benefits our friends at 826CHI, a non-profit writing center for kids age 6-18.  I am participating, but I will not be able to attend this week's check-in, so I am bringing the moustache to National Address.
You can bring yours, too!  Wear one, bring a photo of your favorite(s), or just come to talk about them.  Talk about St. Valentine, black history, rotten weather, or the Olympic Games, too (if you think we are ready for that,) as long as a moustache comes into play.
National Address
Thursday, February 18, 7-9pm
Barista Coffee House, 852 N Damen Ave.
RSVP on Facebook
National Address is the Gothic Funk Nation's official reading circle, a safe and friendly place to informally workshop works-in-progress. Consisting of readings and round table discussions, the National Address aims to provide a forum for writers of all Gothicly Funky stripes and a voice for the Gothic Funk Nation. Attendance is open and participants are welcome to bring unsolicited material.